Save Money & Time with StuffIt File Compression
Learn how you can save a lot of Money & Time with StuffIt File compressing programs.
Benefits of File Compression Programs
Using StuffIt file compression programs has a lot of benefits.
The three main reasons for using file compressing software are:
Save Money on Hard Disks
Save Money on CDs & DVDs
Save Money on Internet Bandwidth
Notice that StuffIt has the
highest compression factor
of all compression programs and that you even can compress PDFs, MP3 music files and photos. Therefore, you can
save more money with StuffIt
than with other file compression programs.
How to Save Money on Hard Disks?
Problem:
Your hard disk is full of MP3s, movies, pictures and other files.

Solution:
You can buy a new additional hard disk. This has the disadvantage that it takes time and money to select and buy the right harddisk for your system. You also need some technical skills to install the hard disk in your computer.

Better Solution:
Most often it is a much better idea to simply compress all the files on your hard disk using a StuffIt Deluxe or StuffIt Standard file compression program.
How to Save Money on CDs & DVDs?
Problem:
You need a lot of CDs/DVDs when burning CDs and DVDs to backup or distribute your files.

Solution:
It makes a lot of sense to compress the files before burning. This way you will need less CDs and DVDs and you can save time and money.
How to Save Money on Internet Bandwidth?
Problem:
Most Internet connections have a monthly bandwidth limit. If you go above this bandwidth limit, whether your Internet connection is blocked or you'll have to pay an additional fee.

Solution:
It is a good idea to compress all the files you want to exchange with others. This way, you save bandwidth but also a lot of annoying waiting time, because of the much faster file transmission.
Other File Compression Benefits
Problem:
Sometimes you need to send an email with many attachments. It takes time to attach all these files separately to your email and it can be very confusing for the receiver.

Solution:
A much better way is to compress and archive all the attachments in one single file before sending. This is much more organized, easier to manipulate and is more professional.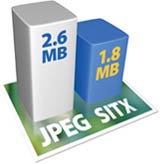 Click here
to learn more about StuffIt.