StuffIt Deluxe for WINDOWS PCs - FREE Trial Program!


STUFFIT
Deluxe

®
ACCESS & MANAGE ANYTHING - COMPRESS & EXPAND ALL FILES - EVEN PICS!
THE COMPLETE SOLUTION!
Download StuffIt Deluxe for Windows
30-Day FREE Trial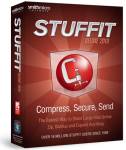 COMPLETE SOLUTION - ZIP, ACCESS, BACKUP, AND SEND!
StuffIt Deluxe for Windows is the complete compression solution! Store data in space-saving archives up to 98% smaller than the data's original size!
Smaller is Better!
Reduce files up to 98% of their original size. StuffIt's powerful tools make creating, searching, and modifying .zip and .sitx archives easy! StuffIt allows you to create index files of your CDs and DVDs.
Microsoft Office 2003 & 2007 Integration
Compress, save, and send all your Microsoft Word, Excel, Outlook or PowerPoint files.
Compress Zip Archives into Even Smaller Files!
Make Those Multi-Megapixel JPEGs Smaller!
StuffIt's exclusive patent-pending technology compresses any JPEG image by up to 30% - without any loss of quality!
"... We will say StuffIt Deluxe has three distinct advantages:

First, for many files, StuffIt Deluxe makes smaller archives than WinZip.
Second, StuffIt Deluxe's self-extractor component is bundled with the programs (WinZip charges $49 extra for the self-extractor).
Last, StuffIt can create and open both StuffIt and Zip archives, whereas WinZip does not support the StuffIt format..."

5/5 Rating - Smart Computing - April, 2005

A Revolution in Compression!

Shrink Photos by
30 percent.
Smaller Size.
No Quality Loss!