StuffIt 16 Deluxe for Apple Mac OS X - FREE Trial Program!


STUFFIT
Deluxe

®

for Mac
ACCESS & MANAGE ANYTHING - COMPRESS & EXPAND ALL FILES - EVEN PICS!
THE COMPLETE SOLUTION!
Download StuffIt Deluxe for Macintosh
30-Day FREE Trial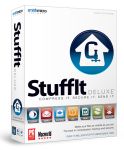 COMPLETE SOLUTION - ZIP, MANAGE, BACKUP, & SEND!
StuffIt Deluxe for Mac provides a suite of tools that helps you access, compress, manage, protect, send, and backup all your important files and images!
More Room On Your Drive!
Shrink documents up to 98% of their original size! Free tons of space on your hard disk and your flash drive! Save more compressed files onto CDs or DVDs!
Expand Anything!
Only StuffIt gives you access to more than 20 different compression formats!
Compress JPEG Photos and Images by up to 30%!
With its revolutionary new Image compression technology, StuffIt achieves what no other compression product has been able to do - reduce the size of JPEG photos and images up to 30% with absolutely no loss in image quality!
"... We will say StuffIt Deluxe has three distinct advantages:

First, for many files, StuffIt Deluxe makes smaller archives than WinZip.
Second, StuffIt Deluxe's self-extractor component is bundled with the programs (WinZip charges $49 extra for the self-extractor).
Last, StuffIt can create and open both StuffIt and Zip archives, whereas WinZip does not support the StuffIt format..."

5/5 Rating - Smart Computing - April, 2005

A Revolution in Compression!

Shrink Photos by
30 percent.
Smaller Size.
No Quality Loss!