StuffIt Connect
Introduction to StuffIt® Connect & How to use it!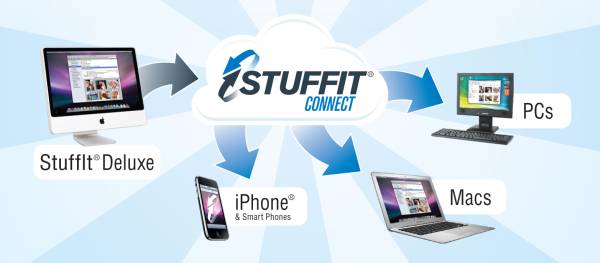 What is StuffIt Connect?
StuffIt Connect is a "cloud-based" file transfer service.
StuffIt Connect makes it possible to share very large files very easily without any limits. No maximum email attachment limitations or complex FTP transfers.
With StuffIt Connect you can access all your files at anytime, from anywhere, from any internet connected device! Even from your smart phone (e.g. iPhone, Android, Nokia, etc.).
You get 1 FREE year of StuffIt Connect service when you buy the new StuffIt Deluxe 2010 for Mac or StuffIt Deluxe 2010 for Windows software.
How to use StuffIt Connect?
Log in
First, you have to log in to your StuffIt Connect account.
If you are a new user you first have to create your StuffIt Connect account. To set up your StuffIt Connect account, simply follow the easy instructions of the StuffIt Deluxe® Setup Wizard. You will be asked to provide your StuffIt Deluxe registration number.
Shares
The StuffIt Connect home page is the "Available Shares" page. Here you can see a list of all the Shares you have uploaded.
A "Share" is created any time you send a large file using "Stuff & Mail" from StuffIt Deluxe or when you upload a file using the StuffIt Connect interface. By default the Shares will be created as StuffIt X archives, however you can change the default compression format, e.g. ZIP files.
You can store up to 2GB of Shares in your StuffIt Connect account.
Invitations
Once your files have been uploaded as Available Shares, you can safely and securely allow access by sending out email invitations. The Invitation will include a personal message, as well as a link (url) that allows your recipient to start the download process of your share files.
StuffIt Connect will store all invitation email addresses in the contacts address book.
Some Options
You have a lot op options, e.g. an invitation to download one of your files can be set to expire after a specific date, and you can manually cancel an invitation at any time. You can encrypt the files you share using StuffIt's strong encryption technology, you can set a download access code to restrict access to your files, etc.