StuffIt for Apple Mac OS X - The
LATEST

versions!

Buy Now & Get a

FREE BONUS!

You get a

FREE

6-month subscription to

SendStuffNow

!

(to securely deliver online files)
STUFFIT

®

ACCESS ANYTHING - COMPRESS & EXPAND ALL FILES - EVEN PICS!

EXPANDER + BASIC COMPRESSION

Download the

LATEST

StuffIt

for Mac




StuffIt (Standard)

$29.99

$26.99

Upgrade

$14.99

$13.49

Download StuffIt

Instant Downloads

Rebate Tip -

SAVE 10%

- Use our StuffIt discount coupon code: STUFFITFALLWINTER2011

STUFFIT

Deluxe

®

ACCESS ANYTHING - COMPRESS, SECURE, SEND and much more..

Editor's Pick!

THE COMPLETE SOLUTION!

Download the

LATEST

StuffIt Deluxe

for Mac




Rebate Tip -

SAVE

on StuffIt Deluxe! (no coupon needed)

STUFFIT

Expander

STUFFIT

Deluxe
The StuffIt for Mac Family - A Brief Selection Guide
The
award-winning
StuffIt family is known as the
premier and dominant
compression/expansion software for the Mac platform.
StuffIt uses an exclusive patent-pending technology that lets you compress even JPEG-images up to 30 percent without any quality loss (100% pixel-perfect)!
1. StuffIt Expander for Mac
FREE expansion & decoding!
With the free StuffIt Expander for Macintosh you can decode or expand all compressed files.
For example, you can access StuffIt's own .sitx-files, uncompress Zip, gzip, bzip, tar files, and lots of archive formats.
Expander is very easy to use; Just drag, drop, and it's done!
Download FREE StuffIt Expander
2. StuffIt for Mac
(formerly known as StuffIt Light or StuffIt Standard)
Basic expansion & compression solution!
StuffIt Standard gives you the functionality of StuffIt Expander, DropZip, DropStuff, and DropTar combined into one easy to use program.
Download StuffIt
3. StuffIt Deluxe for Mac
Complete expansion & compression solution!
With StuffIt Deluxe you have the best software tools combined to access, compress, manage, protect, send, and backup all your files and images! It handles all common and many uncommon compression protocols.
Schedule and manage backups with StuffIt Deluxe and burn your archives to CD and DVD without any additional software!
StuffIt also adds strong encryption and error-correction. As a result, you can cut transfer times and protect privacy and data integrity.
LATEST StuffIt Deluxe Benefits
include:
StuffIt Destinations™ - Now you can simply drag-and-drop your files to the provided locations and StuffIt will compress and send your documents, movies, music, photos and more.
SendStuffNow™ built in - This is a new kind of file transfer and storage service. You can securely store and send up to 2 GB worth of files and share them via email invitations to download your files. Get a free 3-month subscription to SendStuffNow with a purchase of StuffIt Deluxe 2011.
64-bit Optimized – StuffIt Deluxe 2011 has been fully optimized for high performance systems running in 64-bit mode
Improved Compression – StuffIt X file format has been updated to provide improved compression of a wide range of file types

3 User Pack

– Purchase of StuffIt Deluxe now comes with three user licenses so you can install a copy of your StuffIt Deluxe on up to three Mac or Windows computers
Cross Platform Licensing – Profit from StuffIt's unique "One Source" license model; If you purchase StuffIt Deluxe for Mac you receive a

free license for StuffIt Deluxe for Windows

!
StuffIt® Connect - Easy file management; Securely store up to 2 GB.
StuffIt® SmartSend - Small files are automatically compressed and attached to a new email message, while larger items are uploaded to a secure website via StuffIt Connect.
Create Disk Images (DMG) - directly from MagicMenu.
Improved Compression - now compresses high-quality TIFF or PNG files.
Plug-in Support for Your Favorite Photo Applications.
Make Multi-Megapixel JPEGs Smaller
Optimized Compressors - specifically targeted for maximum efficiency with MP3s, PDFs, iWork® files and Microsoft® Office documents, emails and presentations.
Download StuffIt Deluxe
|
View StuffIt Deluxe Specification Sheet (.pdf, 398kB)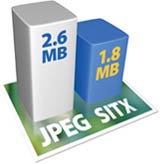 Click here
to learn more about StuffIt.